Keiko-kai - Project Act 0.3 - online streaming! with Christopher Mulligan and Etsuji Horii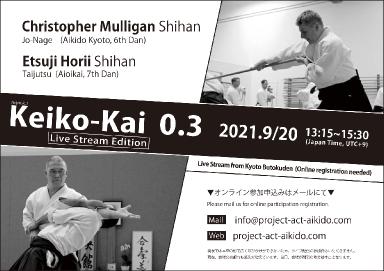 Activity

Sensei Aikido
Etsuji Horii
Etsuji Horii Sensei was born on May 4, 1964, in Osaka, Japan. He holds a rank of a 7 Dan in Aikikai and is a founder of the Aioikai Aikido... Continue Reading
Mon
Christopher Mulligan Shihan

Jo-Nage (Aikido Kyoto, 6th Dan)

Etsuji Horii Shihan

Taijutsu (Aioikai, 7th Dan)

Project ACT

Keiko-Kai 0.3 2021.9/20 13:15~15:30

[Live Stream Edition]

(Japan Time, UTC+9)

Live Stream from Kyoto Butokuden (Online registration needed)

You can apply online by e-mail

Please mail us for online participation registration.

【Mail info@project-act-aikido.com

【Web project-act-aikido.com

In the present form, the participation fee for Leipzig distribution will not be taxed because it is broad and cannot be called in its original form.

At present, dyeing is also increasing in the city of Beijing, where the venue is located. At the moment, if the venue is closed, it will be suspended.


Keiko-Kai are Aikido seminars organized by and dedicated to practitioners.

Each seminar consist of 3 to 5 hours of Aikido practice. Any practitioner or group of practitioners with their Dan/Kyu ranks registered under Aikikai or Aikikai affiliated dojo is welcome to participate, with no consideration of age nor rank. Individuals are advised to consult with their main instructor for participation.

A Map of upcoming seminars by these teachers
The red dot indicates the location of this seminar. The flags indicate the location where these teachers are having their next seminars
Accomodation prices around the area