The 6th International Seminar with Horii Sensei in Moldova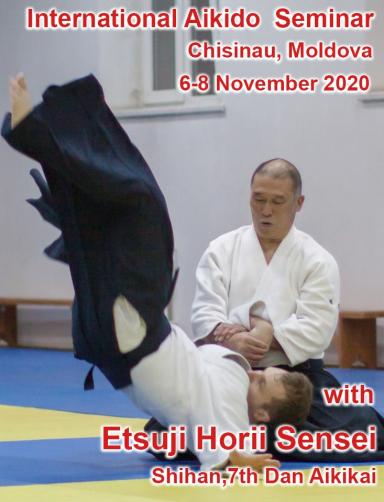 Activity

Sensei Aikido
Etsuji Horii
Etsuji Horii Sensei was born on May 4, 1964, in Osaka, Japan. He holds a rank of a 7 Dan in Aikikai and is a founder of the Aioikai Aikido... Continue Reading
Fri
Sat
Sun
Every autumn for the past 5 years Etsuji Horii Sensei was invited to teach in Moldova. Through years Aikido Aikikai practitioners from nearby countries were gathering in one place to do what they love. The 6th Annual International Seminar with Horii Sensei in Moldova will be held on November 6-8, 2020. Make sure to have your weapons with you for the Buki Waza classes.


Participation fee: 50 Euros.


Moldova is known well wine-tourism as a country. The autumn is a season of winemaking, festivals which can make a trip to a country complete.
A Map of upcoming seminars by these teachers
The red dot indicates the location of this seminar. The flags indicate the location where these teachers are having their next seminars
Accomodation prices around the area