Nebi Vural Gien Seminar (Cancelled)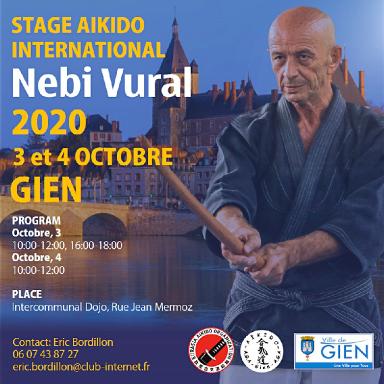 Activity


Sensei Aikido
Nebi Vural
Nebi Vural Sensei was born on September 29, 1951, near the Kars city, Turkey. At the age of 15, he started his martial arts way with the Karate in Ankara.... Continue Reading
Sat
Sun
Due to the new updates about COVID regulations in Loiret area, this seminar has been cancelled.
Aikido Seminar at Gien / France under the direction of Nebi Vural Sensei Technical Director of EAO "Eurasia Aikido Organization"
Information about Nebi Vural Sensei:
http://www.nebivural.com/
We will practice respecting the barrier gestures and recommendations issued by our authorities so that this course is a success! Don't forget to book your hotels. It would be nice to let us know about the potential number of practitioners.
Le stage est maintenu , nous pratiquerons en respectant les gestes barrières et préconisations émises par nos instances pour que ce stage soit une réussite , n'oubliez pas de réserver vos hôtels . Il serait bien de nous informer du nombre potentiel de pratiquants . Aux plaisir de vous voir.
Contact: Éric BORDILLON : 06 07 43 87 27
Email: aikido.gien@gmail.com
A Map of upcoming seminars by these teachers
The red dot indicates the location of this seminar. The flags indicate the location where these teachers are having their next seminars
Accomodation prices around the area