Messisco Kessler 2019 Memorial Day Weekend Exploration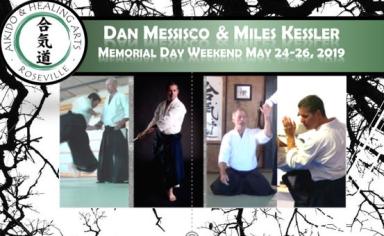 Activity

Fri
Sat
Sun
Dan Messisco, 6th Dan Aikido Schools of Ueshiba joins with special guest Miles Kessler, 6th Dan Aikikai to lead what promises to be an interesting weekend of aikido exploration and reflection.


Miles Kessler is the founder and director of the Integral Dojo in Tel Aviv, as well as the non-profit organization Aikido Without Borders in Israel/Palestine. For two decades, he has been producing Aikido events throughout the world such as "Aikido Practice & Inquiry", "The Dead Sea Seminar", and the "Aikido at the Leading Edge" tele-summit.


Dan Messisco has been training in martial arts for over 50 years. He has taught seminars across the world, concentrating on his approach of working from the absolute perspective.


FRI: (5/24) 6:00 PM – 8:00 PM

SAT: (5/25) 10:00 AM – Noon; 3:00 PM – 5:00 PM; Potluck Dinner

SUN: (5/26) 10:00 AM – 1:00 PM


$130 / 3 Days


Please join us. Sign up now.

A Map of upcoming seminars by these teachers
The red dot indicates the location of this seminar. The flags indicate the location where these teachers are having their next seminars
Accomodation prices around the area