10th International Aikido Festival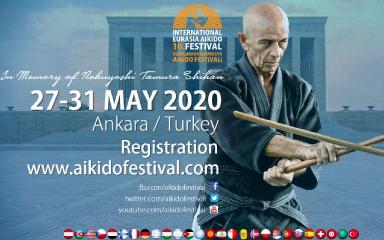 Activity

Wed
Thu
Fri
Sat
Sun
Seminars are those events where we can see the varieties in techniques, make friendships, and above all, never forget to maintain our "beginner's mind". Under the influence of the speech given by Tamura Shihan in his 2009 seminar in Turkey, an international seminar was decided to be organized, where every single person can participate to follow his/her own path by practicing with many different practitioners from all over the world.
You are invited to the 10th Aikido Festival, organized annually since 2011 and directed by a successor of Tamura, Nebi Vural Sensei, in Turkey, the physical bridge between Asia and Europe, to experience this wisdom on a tatami, with sisters and brothers from all over the world.
Let us join together to experience: Peace on the tatami, Peace in the world.
https://www.facebook.com/aikidofestival/
More Info
http://www.aikidofestival.com/about/
A Map of upcoming seminars by these teachers
The red dot indicates the location of this seminar. The flags indicate the location where these teachers are having their next seminars
Accomodation prices around the area
More seminars by Nebi Vural