National AIKIDO Course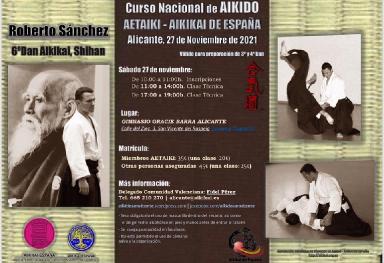 Activity

Sensei Aikido
Sat
Roberto Sanchez
National AIKIDO Course
AETAIKI-AIKIKAI FROM Spain
Alicante, November 27, 2021
6°Dan Aikikai, Shihan
Valid for 3° and 4" Dan preparation
Saturday, November 27:
From 10.00 to 11:00h. Registration
From 11:00 to 14:00h. Technical Class
From 17:00 to 19: 00h. Technical Class
Place:
gym gracie barra alicante
3 delZinc Street. San Vicente del Raspeiacomo liegr2
License plate:
AETAIKI members: 35€ (one class: 20€)
Other insured persons: 45€ (one class: 25€)
More information:
Delegate Valencian Community: Fidel Pérez
Tel. 665 210 270 | alicante@aikikai.es
aikidosanvicente.wordpress.com | facebook.com/aikidosanvicente
It will be mandatory to use a mask inside the enclosure, as well as
the hydro-alcoholic gel on the feet and hands before entering the tatami.
Punctuality is requested in the classes.
The use of cameras is not allowed
except the organization.
AIKIKAI JAPAN
Menibro
spain
Alkikai from Spain
association esparolofdeakido technicians-anmaide espara
http://aikkalotz.s
A Map of upcoming seminars by these teachers
The red dot indicates the location of this seminar. The flags indicate the location where these teachers are having their next seminars
Accomodation prices around the area